WELCOME FROM THE RECTOR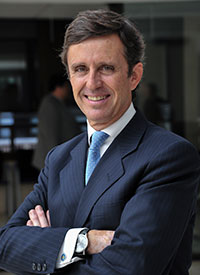 Dear friends:
Greetings and welcome to Francisco de Vitoria University. We are an international university in both origin and mission. Our philosophy focuses on providing a comprehensive education for our students, and it is towards this goal that all of our faculty and staff are encouraged to work. In accordance with our motto, "overcome evil with good", not only do we wish to train scientists and professionals efficiently, but also to educate people who can actively contribute to building a better and more humane world. We invite you to get to know the UFV by browsing our website. Please feel free to contact us with any questions that you may have. Thank you for visiting us, welcome, and warm wishes from Madrid, Spain.
Daniel Sada Castaño. Rector UFV.
WHO WAS FRANCISCO DE VITORIA?
WHY STUDY WITH US? AN APPROACH TO OUR EDUCATIONAL PROJECT
ARE YOU INTERESTED IN STUDYING A FULL DEGREE?
ARE YOU A STUDY ABROAD STUDENT, PROFESSOR, LECTURER OR UNIVERSITY INTERESTED IN REACHIN THE INTERNATIONAL RELATIONS OFFICE?
ABOUT UFV
OUR FACULTIES
OUR CENTRES
CAMPUS SERVICES & FACILITIES
¿POR QUÉ ESTUDIAR EN LA UFV?

Leader in Teaching and Learning

Practical training in the best facilities