Welcome from the Rector
Dear friends:
Greetings and welcome to Francisco de Vitoria University. We are an international university in both origin and mission. Our philosophy focuses on providing a comprehensive education for our students, and it is towards this goal that all of our faculty and staff are encouraged to work. In accordance with our motto, "overcome evil with good", not only do we wish to train scientists and professionals efficiently, but also to educate people who can actively contribute to building a better and more humane world.
We invite you to get to know the UFV by browsing our website. Please feel free to contact us with any questions that you may have. Thank you for visiting us, welcome, and warm wishes from Madrid, Spain.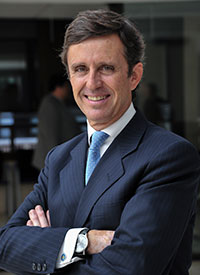 UFV UNDERGRADUATE ADMISSION PROCESS
At UFV we have rolling admissions, which means that you can apply for admission at any time during the year. However, as our programs are usually full several months before the academic year starts, we advise you to start the process as soon as possible keeping in mind that having your studies officially recognized and applying for visas will require time.
1.

Complete the online application form.

The application form contains detailed step-by-step information on how to fill it in and complete the process. You will have to register with your personal email. Please do not use your school or parents' email.

2.

Attach required documents.

The following documents must be submitted with your application form:

Original academic transcripts for all high school years completed.
Letters of recommendation: one from your teacher or tutor and another from your counselor, head of studies or school principal.
A scan of your passport, identity card or residence permit (NIE, if you reside in Spain).
An essay to let us know why you believe the UFV is the school you would want to attend.
A scan of a passport-sized photo.

Language
All our undergraduate programs require completing courses in Spanish therefore you should complete the admission process in that language. If you have not studied/learnt Spanish, please consider attending our gap year (Experiential Transitions Spain) prior to starting your undergraduate studies at UFV. Your level of Spanish can be certified by your current teachers and should be at a B1 CEFR rating. For ACTFL Assessment equivalents please see: https://www.actfl.org/sites/default/files/reports/Assigning_CEFR_Ratings_To_ACTFL_Assessments.pdf You can also meet minimum levels of Spanish if you have taken it: as part of your IB diploma, as an SAT Subject, and/or as an AP test. Must meet required standards for each.

3.

Personal Interview.

Personal interviews are held online. The interview will allow us to get to know you better and assess certain qualities that are not immediately apparent from the documentation you have provided.

4.

Admission.

Once you have completed the application form, handed in the documentation, and attended the personal interview, your application is analyzed in detail by the university's Admissions Committee made up of university staff members who, jointly, value your suitability as a potential student. You will be informed of the Admissions Committee's decision within a week by e-mail.

5.

Deposit.

Once you are admitted you can pay the place reservation fee, thus guaranteeing yourself a place on the undergraduate program you have chosen.

6.

Enrolling and academic documents required for enrolment.

If you have studied in Spain or in a Spanish school abroad, you will need to submit your Spanish university entrance exam scorecard and can be provisionally admitted until you receive your final exam grades.
If you have studied in an educational system within the EU, Switzerland or countries which have a bilateral agreement with Spain, or if you have a European or International Baccalaureate Diploma, you will only need to submit the credentials given by the Spanish Distance-Learning University (UNED). In these cases, you will need to comply with the university entry requirements in your country of origin.
Students who have graduated from high school within the US system will need to officially validate their studies within the Spanish Educational system, through the Ministry of Spanish Education.
More information on these processes is provided once we receive your completed application form.

7.

Enrolling and academic documents required for enrolment.
For assistance and/or additional information:
Find us at the UFV campus, in Madrid, at Central Building / Module #1
If you have doubts on the admissions process, contact Paloma through Whatsapp at: +34 629 982 627
If you have already been accepted and need assistance, contact Catalina through Whatsapp at: +34 650 459 292
Call us at +34913510303
Email us at admisioninternacional@ufv.es
Contact Ms. Bri Valencia / Director of International Admissions at brigida.valencia@ufv.es
ARE YOU INTERESTED IN STUDYING A FULL DEGREE?
CONTACT US!
ARE YOU A STUDY ABROAD STUDENT, PROFESSOR, LECTURER OR UNIVERSITY INTERESTED IN REACHIN THE INTERNATIONAL RELATIONS OFFICE?
CONTACT US!